Yes I sell Wholesale!
contact me for pricing - ClaireBrightly@gmail.com

Hi! - Welcome to the Whimsical World of Claire's Art!
My dogs and cats have been a huge inspiration as you will see!
See my new SCARVES!!
If you would like to LIKE my Facebook page, click above!!
THIS IS one image I sew onto on MY KITCHEN / BATHROOM TOWELS.
(comes as a magnet too!)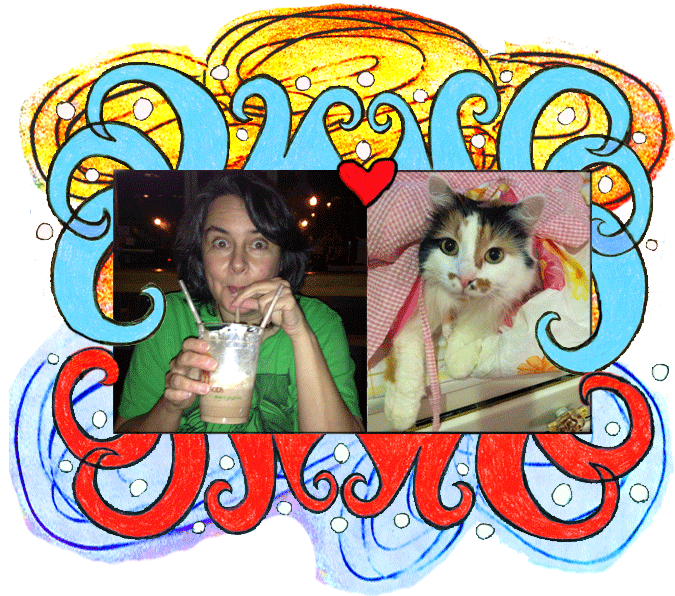 Hi I'm Claire Brightly, the artist featured on this website! And my cat Charlene.
Charlene is my only pet, as the others have taken leave to fly around the heavens.
SHE'S MY ARTISTIC MUSE.... a lovely loving lovable mystical magical kitty she is!
(i thought this photo was too plain so I figured I'd put a quick little border around it,
apparently I went a bit nuts)
Here is Claire wearing her special CREATIVITY glasses
Famous Artist Claire Brightly here....
10% of profits of sales from this website go to the Charity
Save the Tails
EVERYTHING HERE IS HANDMADE BY ME, EVEN THE MAGNETS, I LAMINATE THEM ON MY LAMINATOR, THEN CUT THEM OUT INTO DIFFERENT SHAPES, then I affix a magnet to the back.
TOWELS ARE selling so well that I seem to be sitting at the sewing machine A LOT!!
I put my artwork on lovely striped colorful towels! They are super!

I paint backwards on old windows (reverse-glass painting). I am especially suited for this process because I've always been able to write backwards! A lot of my towel images come from window paintings.
I was making Cardboard Paintings, I called them the "Archival Schmival" Series. They hang from wire with beads and you can put them over a doornob... or on a wall. UPDATE: They are not selling like hotcakes, they are selling more like cardboard, he-he (... on to something different...) BUT I did get some images for my towels from some of these paintings... and this leads me to my next sermon "there's no such thing as wasted time" "amen."
ABOUT ME: I grew up in Atlanta, went to Boone NC to college for some partying and meeting some lifelong friends, then to GA State for a quarter, then to Ft. Collins CO to study art, or so I thought, but I didn't think I could do it so I majored in Black & White photography, which I'm not that great at. Back to Atlanta where I went to the Portfolio Center to become a Commercial Photographer, (I was dreading it from the start, all those numbers and exposures and things you have to keep track of, augh!! but I was going to do it anyway!...then I saw some graphic design work on the wall and was super struck with the idea that "i want to do THAT!" so I polled some people, asking "do you have to be able to draw to be a graphic designer?" they said "no" so I immediately switched careers. I did really well! Got a job in Greenville SC (picking up a few more lifelong friends, to go along with my other Pace Academy 4th grade lifelong friends and those Boone NC ones I picked up in 1981) and finally one day (doing Landmark Education for a while helped me make the leap) I decided to try to make a go of it, and started doing art and art shows. I was freelancing (graphic design) in this transition period. Right now I'm living on a muscadine vineyard in Decatur GA and am very happy with a Now Successful business! I have many stores buying and reordering my towels!! And I sell my magnets by the tons at some stores. I come up with ideas regularly, and am always sewing something or making or painting ... Business is Great, People are Terrific & Life is WONDERFUL!!! yaHOOO!